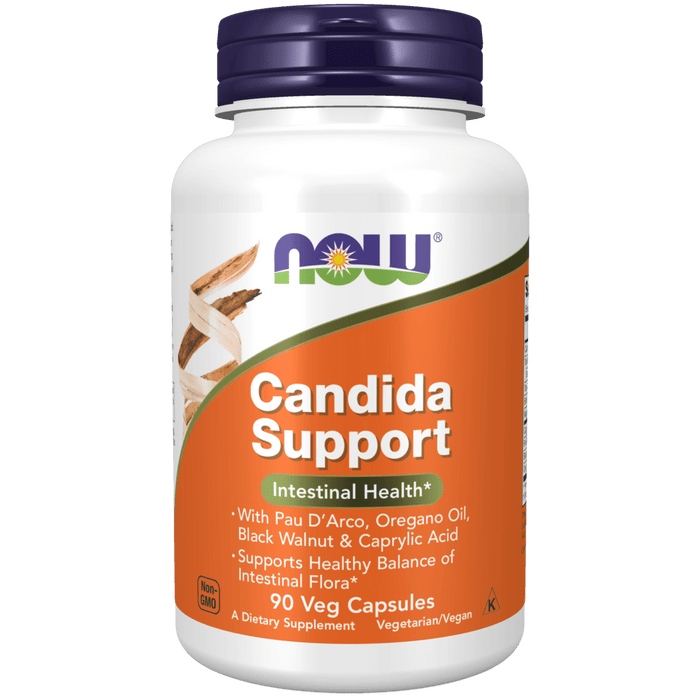 Now Foods Candida Support - 90 Veg Capsules
Sale
Sale
Original price
$ 22.00
-
Original price
$ 22.00
With Pau D'Arco, Oregano Oil, Black Walnut & Caprylic Acid
Supports Healthy Balance of Intestinal Flora*
Candida albicans is a naturally occurring yeast that typically resides in the gut as part of the normal gut flora. Candida Support is a combination of traditional herbal ingredients (pau d'arco, black walnut and oregano oil), biotin (a B-complex vitamin) and caprylic acid (a naturally occurring fatty acid derived from plant oils) that may help to support a healthy balance of intestinal bacteria.* Although Candida Support is not meant to clear Candida albicans from the gut, it can help to support a healthy balance of intestinal flora.*
Please see the Supplement Facts tab for a full listing of the Ingredients in this product. In summary, it contains: Biotin, Magnesium (from Magnesium Caprylate), Caprylic Acid (from Magnesium Caprylate), Pau D'Arco (Tabebuia heptaphylla) (Bark), Black Walnut (Juglans nigra) (Hull), Oregano Oil Powder (Origanum vulgare).
Supplement Facts
Suggested Usage and Storage
Take 2 capsules daily with food.