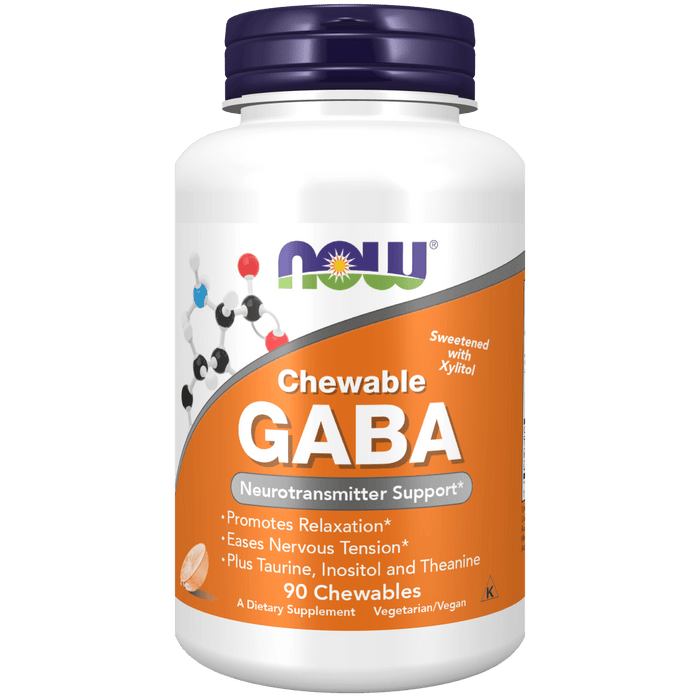 Now Foods GABA Orange Flavor Chewable - 90 Chewables
Sold out
Original price
$ 20.00
-
Original price
$ 20.00
Promotes Relaxation*
Eases Nervous Tension*
Plus Taurine, Inositol and L-Theanine
Sweetened with Xylitol
GABA (gamma-aminobutyric acid) is a non-protein amino acid that functions as a neurotransmitter in the human brain.* GABA is naturally produced in the body and its presence within the central nervous system may help promote relaxation and ease nervous tension.* Delicious orange flavor NOW® Chewable GABA combines this naturally occurring neurotransmitter with the relaxing amino acids taurine and theanine for their complementary functions.*
Seals and Certifications
GMP;Kosher (Triangle K);UL Dietary Supplement Certification
Please see the Supplement Facts tab for a full listing of the Ingredients in this product. In summary, it contains: GABA (Gamma Aminobutyric Acid), Taurine, Inositol, L-Theanine.
Supplement Facts
Suggested Usage and Storage

Take 2 chewable tablets 1 to 2 times daily as needed, preferably with juice or water on an empty stomach. Store in a cool, dry place after opening.