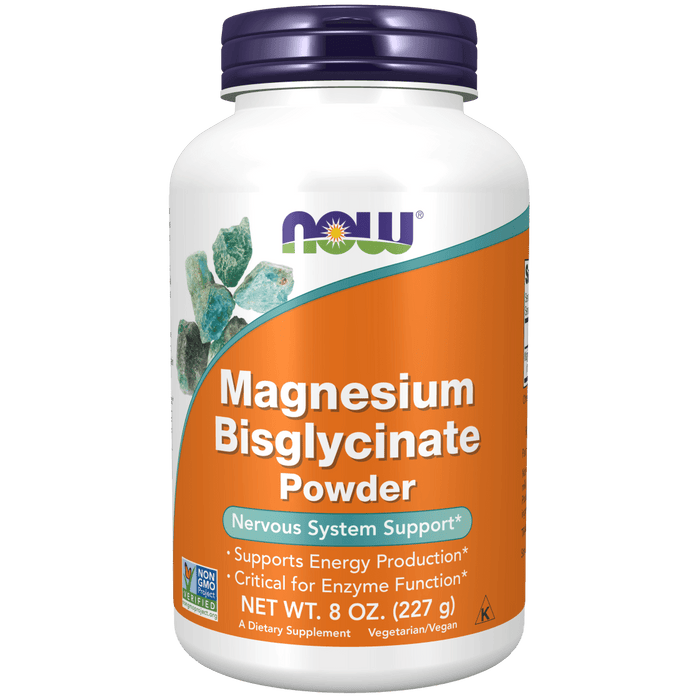 Now Foods Magnesium Bisglycinate Powder - 8 oz.
Sale
Sale
Original price
$ 18.00
-
Original price
$ 18.00
Supports Energy Production*
Critical for Enzyme Function*
Magnesium bisglycinate utilizes magnesium bound to the amino acid glycine, which facilitates intestinal absorption.* Magnesium is a mineral that activates an estimated 300 enzymes, including those that regulate functions critical for energy production and metabolism, muscle contraction, nerve impulse transmission, and bone mineralization.* In addition, magnesium is required for fatty acid synthesis, protein synthesis, and glucose metabolism.* Magnesium status is also important for regulation of calcium balance through its effects on the parathyroid gland.*
GMP;Keto-Friendly;Kosher (Triangle K);Non-GMO Project Verified;UL Dietary Supplement Certification;Vegan
Please see the Supplement Facts tab for a full listing of the Ingredients in this product. In summary, it contains: Magnesium (elemental) (from 2,500 mg Magnesium Bisglycinate) (TRAACSTM).
Supplement Facts
Suggested Usage and Storage
Mix 1 level teaspoon of powder into at least 6 oz. of juice or water. Take 1 to 2 times daily with food. This product must be diluted into a liquid before ingestion. Store in a cool, dry place after opening.
For adults only. Consult physician if pregnant/nursing, taking medication, or have a medical condition. Keep out of reach of children. Do not eat freshness packet enclosed.