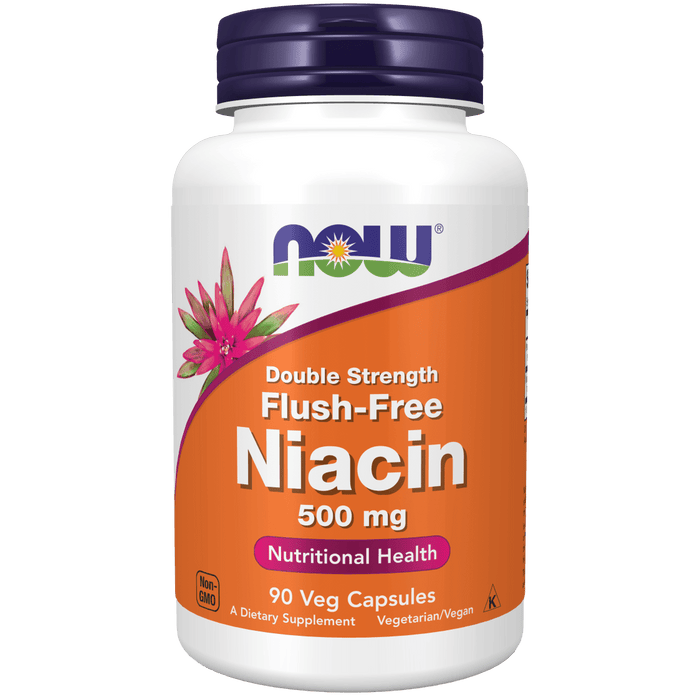 Now Foods Niacin 500 mg, Double Strength Flush-Free - 90 Veg Capsules
Sale
Sale
Original price
$ 18.00
-
Original price
$ 18.00
Double Strength
Flush-Free
Niacin (Vitamin B-3) is an essential B-complex vitamin. Flush-free niacin contains inositol hexanicotinate, a form of niacin that consists of six molecules of niacin linked to a single inositol molecule. It is slowly broken down in the body to yield free niacin and inositol. This gradual release of niacin allows for true niacin activity without the characteristic niacin flush that many people cannot tolerate.
This product has twice the niacin (500 mg per capsule) as in our regular strength product (250 mg per capsule).
Seals and Certifications
GMP;Kosher (Triangle K);Non-GMO;UL Dietary Supplement Certification
Please see the Supplement Facts tab for a full listing of the Ingredients in this product. In summary, it contains: Niacin (Vitamin B-3) (from 640 mg of Inositol Hexanicotinate), Inositol (from 640 mg of Inositol Hexanicotinate).
Supplement Facts
Suggested Usage and Storage

Take 1 capsule daily as needed, with a meal. Store in a cool, dry place after opening.