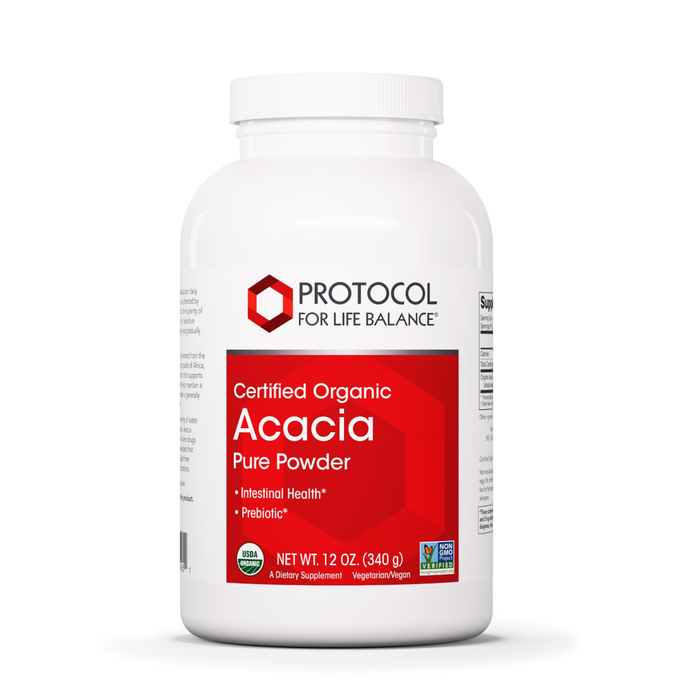 Protocol for Life Balance Acacia Powder - 12 oz.
Sale
Sale
Original price
$ 15.00
-
Original price
$ 15.00
Certified Organic
Intestinal Health*
Prebiotic*
How it Works
Acacia powder is harvested from the sap of the acacia tree, which is native to parts of Africa, Pakistan, and India. It acts as a prebiotic that supports the vitality of the microorganisms that help maintain a healthy GI environment.* Acacia powder is generally well tolerated and can be used daily. Certified Organic by QAI. This product is sold by weight not volume.
Please see the Supplement Facts tab for a full listing of the Ingredients in this product. In summary, it contains: Organic Acacia Gum Powder (Acacia senegal/Acacia seyal).
Supplement Facts
Suggested Usage
Mix 1 level tablespoon daily into at least 8 oz. of water or juice, or as directed by your healthcare practitioner. Be sure to drink plenty of additional fluids throughout the day. For sensitive individuals, start with 1 teaspoon daily and gradually increase to 1 tablespoon.
Cautions / Interactions
Drink plenty of water or other liquids while using this product. Acacia powder could affect the absorption of some drugs and nutrients. Therefore, it is recommended that this product be taken several hours apart from mineral dietary supplements and medications.