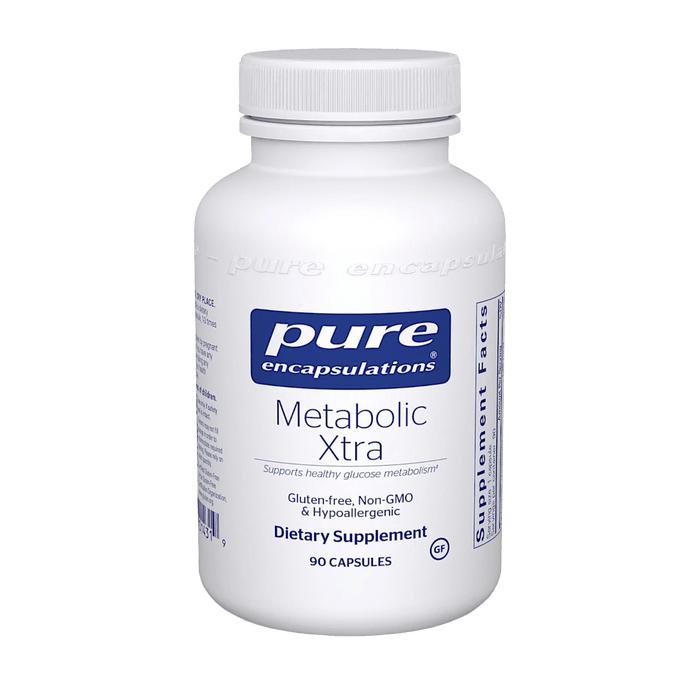 Pure Encapsulations Metabolic Xtra - 90 Capsules
Sale
Sale
Original price
$ 52.40
-
Original price
$ 52.40
Supports healthy glucose metabolism.
Promotes healthy insulin receptor function and signaling‡
Supports glucose homeostasis‡
Offers resVida®

 

99% pure trans-resveratrol
Provides 350 mg berberine HCl per capsule
Made with high-quality, vegan ingredients backed by verifiable science
Verifiable Science
Metabolic Xtra provides a combination of nutrients to support healthy glucose metabolism and insulin receptor function and signaling. The natural plant alkaloid berberine enhances the expression and function of insulin receptors.1,2 In a randomized, placebo-controlled trial involving 116 subjects, berberine provided statistically significant support for healthy glucose and lipid metabolism.3 Resveratrol has been shown to support cellular metabolism and glucose homeostasis by promoting healthy AMPK and SIRT1 protein levels.4,5 The trace mineral chromium plays an important role in glucose and lipid metabolism, as well as enzyme activation.6,7 Alpha lipoic acid provides support for healthy insulin receptor function and glucose metabolism.
Please see the Supplement Facts tab for a full listing of the Ingredients in this product. In summary, it contains: Chromium (as chromium polynicotinate), Berberine HCI Alpha lipoic acid (thioctic acid), resVida® resveratrol (as trans-resveratrol).

Supplement Facts
Suggested Use
As a dietary supplement, take 1 capsule, 1-3 times daily, with meals.