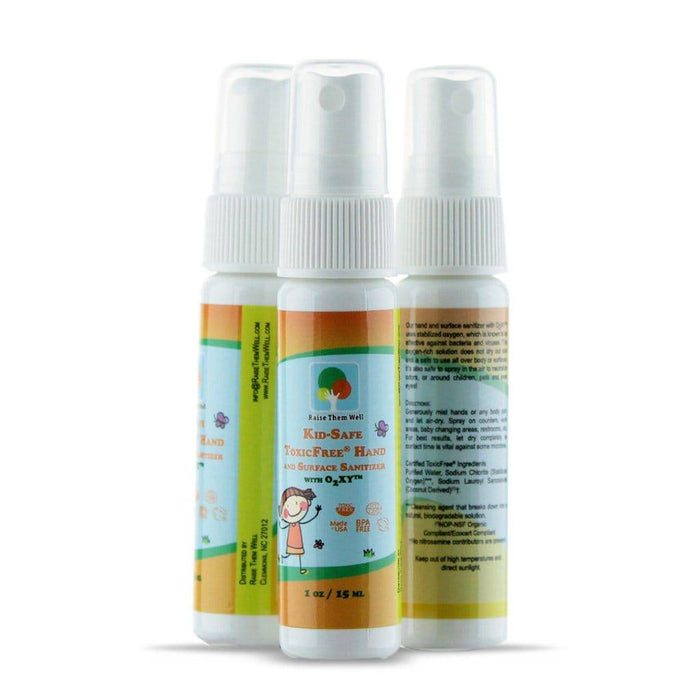 Raise Them Well 3-Pack, Kid-Safe, Certified ToxicFree® Hand and Surface Sanitizer
Sale
Sale
Original price
$ 15.00
-
Original price
$ 15.00
CERTIFIED TOXICFREE INGREDIENTS. Purified Water, Stabilized Oxygen, and Sodium Lauroyl Sarcosinate (Coconut Derived)

TAKE YOUR 3-PACK ANYWHERE. Throw one in your purse, car, and diaper bag.

SAFE FOR KIDS. Please don't put chemicals on your kid's skin.
Our hand and surface sanitizer with O2XYTM uses stabilized oxygen, which is known to be effective against bacteria and viruses. This oxygen-rich solution does not dry out skin and is safe to use all over body or surfaces. It's also safe to spray in the air to neutralize odors, or around children, pets and even eyes!
Kids deserve the best from us. That's why so many of us are endlessly devoted to helping improve the quality of our kids' lives. This past year, with the pandemic, has definitely made parents even more keenly aware of how much there is to keeping kids safe...
If you have kids then you know that the change in weather has done something to your children. 
It's turned a lot of them into outdoor loving juveniles who are getting messier and dirtier than they've been in the past few months...
I understand, we have two young kids.  Their hands are everywhere, in the dirt, in the toilet and then in their mouths and the easiest thing to do is grab some gel hand sanitizer and wipe the bugs away.  However, please take heed and stop using hand sanitizer on your kids.  While they may work well to kill germs, you are exposing them to a litany of toxins...
There is no shortage of information available on all of the dangers that face our families in today's world.  It is overwhelming at times and if it makes you want to go back to bed and pull the covers over your head, I completely understand.  I admit that I too get overwhelmed and sometimes annoyed by scare tactics...
NO.The FDA does not certify organic or toxicfree personal care, household cleaner, or cosmetic products. Actually, the reins are quite loose when it comes to labeling standards in the US...
I've mentioned before about the lack of regulation and standards in the personal care products industry, but I think it's really important to keep talking about it.  Unfortunately, too many families trust products as safe just because they're on store shelves and say they are "non-toxic". Did you know that non-toxic means that only 49% or fewer of lab animals DIED ...
Label Information
DIRECTIONS
Generously mist hands or any body part, and let air-dry. Spray on counters, work areas, baby changing areas. restrooms, etc. For best results, let dry completely as contact time is vital against some microbes.

INGREDIENTS
Purified Water, Sodium Chlorite (Stabilized Oxygen)***, Sodium Lauroyl Sarcosinate(Coconut Derived).

**Cleansing agent that breaks down into a natural, biodegradable solution.
NOP-NSF Organic
Compliant/Ecocert Compliant
No nitrosamine contributors are present

Keep out of high temperatures and direct sunlight.