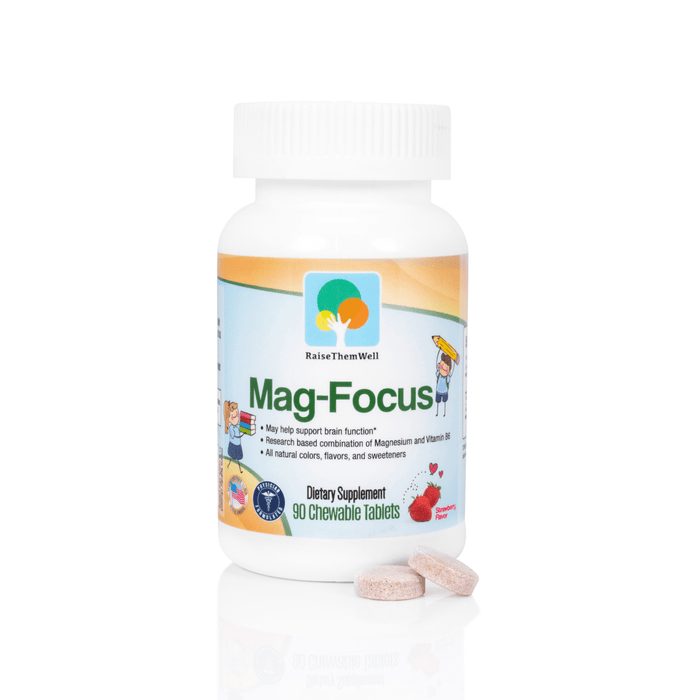 Raise Them Well Mag-Focus - 90 Chewable Tablets
Sale
Sale
Original price
$ 29.00
-
Original price
$ 29.00
Physician Developed Mag Focus

​May help support brain function.*
​Research based combination of Magnesium and Vitamin B6
​All natural colors, flavors, and sweeteners.
Natural Strawberry Flavor
Mag-Focus was developed by a physician and uses only the highest quality ingredients and only the most bio-available forms of vitamins.
We also use only all-natural sweeteners such as xylitol and monk fruit without any sugar. Our kids love the strawberry flavor (they say it tastes like yogurt) and we hope your kids will too.

Mag-Focus was created for kids that struggle with attention and sitting still during school and other activities. Based on the latest research on brain chemistry and electrical activity. Multiple studies show positive improvements in indicators of learning and less disruptive behavior when Magnesium and Vitamin B6 are used in combination. Mag-Focus combines the synergistic effect of Magnesium and Vitamin B6 into a great tasting chewable tablet that kids love.
1. What type of magnesium is used in Mag Focus?
Mag Focus contains Magnesium Citrate - a more-absorbable form of magnesium supplement found naturally in citrus fruits that is effective at increasing magnesium levels in the body.
2. What time of day is best to give my children Mag Focus?
You can give your child Mag Focus when your child needs it. For example, our boys take Mag Focus with breakfast to start the day. However, if your child is having trouble in the afternoons, you can give Mag Focus at lunchtime. Consistency is vital, so we recommend having a daily set time to give it consistently.
3. What should I do if diarrhea occurs?
Discontinue use of Mag Focus until diarrhea ceases. Decrease the serving size for future uses.
4. Can my child take Mag Focus and the Children's Chewable Multivitamin together?
Yes! We formulated all of our children's supplements to be taken safely and effectively together. Our boys take Mag Focus, Children's Chewable Multivitamin, and the Immunity Chewable daily.
5. Can I use Mag Focus after its expiration date?
While we cannot recommend using an expired product, the shelf life of our products generally exceeds the expirations required by manufacturing standards.
6. Does Mag Focus contain corn or any of its derivatives?
No. Mag Focus does not contain corn or any of its derivatives.
7. Can I put Mag Focus in something besides water?
Mag Focus is a chewable tablet your child can take with any favorite beverage.
8. Are there any interactions between Mag Focus and prescription medications?
We recommend consulting your physician before the use of Mag Focus.
9. Can I use the Immunity Chewables and Mag Focus as an adult?
You sure can. We have heard from many adults who benefit from these products. We recommend 2 to 3 chewables per day for adults or roughly one chewable per 50 pounds of body weight.
10. Is it safe to use Mag Focus while pregnant or nursing?
We recommend consulting your physician before using Mag Focus.
11. Should you refrigerate Mag Focus after opening?
It is not necessary to refrigerate Mag Focus after opening.
12. Can I prepare Mag Focus in advance and not drink it until later?
Mag Focus is a chewable tablet appropriate for use anytime, anywhere.
Please see the Supplement Facts tab for a full listing of the Ingredients in this product. In summary, it contains: Vitamin B6 (as pyridoxine HCl), Magnesium (as magnesium citrate).
Articles
Do your kids have trouble focusing? In July of this year our family grew from 4 to 6 includes 4 boys under the age of 7 overnight.  Foster care is something we are passionate about and is an immense blessing to raise 4 little boys, but also includes a lot of noise, rambunctiousness, and disciplining...
 Are you wondering- Which magnesium products are best for your family? We often get questions asking about recommendations for children of various ages with different challenges...
In my earlier article, I discussed the rapidly rising prevalence of kids with inattention and hyperactivity, the standard treatments and their associated side effects, and the good news that a new, all-natural product may be able to help...
We are really excited about our newest product, Mag-Focus, which delivers a well-researched combination of Magnesium and Vitamin B6.  This product was developed to help kids with focus and hyperactivity but is also very useful for kids with anxiety. This is particularly helpful because distinguishing between the symptoms of ADHD and anxiety can be difficult since the symptoms can overlap a lot...
Deciding which vitamin or vitamins your child needs can be challenging.  What can be taken together? How old does my child need to be to take it?  How do I know which one to even pick?...
Supplement Facts
OTHER INGREDIENTS
: Sorbitol, dextrates, natural flavor and color, plant-based magnesium stearate, malic acid, and luo han guo (monk fruit) extract.
SUGGESTED USE:
Use only as directed. Take 2 chewables daily or as directed by physician. Recommended for children ages 4 and up.
*These statements have not been evaluated by the Food and Drug Administration. This product is not intended to diagnose, treat, cure, or prevent any disease.