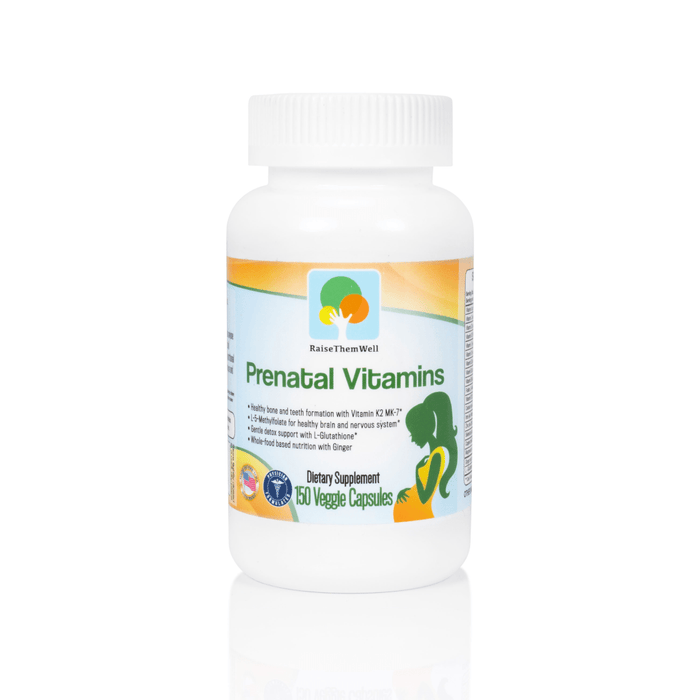 Raise Them Well Physician Developed Prenatal & Breastfeeding Multivitamin - 150 Veggie Capsules
Sale
Sale
Original price
$ 26.00
-
Original price
$ 26.00
Formulated for Optimal Maternal and Fetal Health. Only Prenatal that has Vitamin K2 MK-7, Methylfolate, Methylcobalamin, and Glutathione
No Taste or Smell. Easy to Swallow Capsules. 100% Money Back Guarantee.

Vitamin K2 MK-7 - Critically important for baby's bone and teeth development.

Methylfolate - It is estimated that 30-40% of women do not metabolize regular folic acid which can lead to an unhealthy nervous system.

Methylcobalamin - Natural form of B12. Most other forms are cyanocobalamin which contain a cyanide molecule.

Glutathione -Helps protect the baby from toxins and helps mom gently detoxify.
Most prenatal vitamins on the market use outdated research, ineffective/potentially harmful ingredients, and are missing key ingredients for a healthy mom and baby. It doesn't matter how natural, organic, or food based the multivitamin is, if it is using the wrong ingredients it is doing you and your baby a disservice.
Here's why Raise Them Well's Prenatal Vitamin is the best you can find: Because it was developed by an Integrative Medicine MD for his wife. He couldn't find a prenatal vitamin that had all of the necessary ingredients to insure healthy fetal development so he developed it to include: Vitamin K2 MK-7, Methylfolate, Methylcobolamin, and Glutathione.
- Vitamin K2 MK-7 is considered to be the critical ingredient for proper bone, teeth, and jaw development. Without it kids may develop abnormal skeletal structure and crooked teeth. 
- Methylfolate is necessary for up to 40% of pregnant women because of a possible mutation in the MTHFR gene. With this gene, women are not able to metabolize regular folic acid. Improper metabolism of folic acid can lead to improper brain and nervous system development. 
- Methylcobolamin is the active, natural form of B12 and it is very important for a healthy brain and nervous system. Unfortunately, most prenatal vitamins include cyanocobolamin (B12 bound to cyanide). 
- Lastly, it is enhanced with Glutathione. Studies have shown that there are hundreds of toxins in the cord blood of babies. It is nearly impossible to completely eliminate your exposure in our toxic world. Glutathione binds to toxins floating around in the blood and helps mom gently detoxify while protecting baby. 
1. Why should I take a prenatal vitamin?
Taking a high-quality prenatal vitamin is essential to ensure that you and your baby are as healthy as possible throughout your pregnancy and beyond. During pregnancy, your body needs more nutrients than usual, and morning sickness may prevent you from eating a healthy diet. Prenatal vitamins help fill in any nutritional gaps.
The nutrition a baby receives in the womb affects the development of the nervous, immune, and cardiovascular systems. It also impacts your baby's overall health through childhood and even into adulthood. It may sound crazy, but the in utero environment can determine a baby's IQ, likelihood of having ADHD, and even predict the likelihood of obesity and diabetes.
A daily prenatal vitamin is one great way to be certain that you and your baby are getting all the nutrients you need.
2. When should I start taking prenatal vitamins?
The Raise Them Well prenatal vitamin is a great all-around multivitamin, so we recommend starting with 1 capsule per day around the age of 13 when transitioning away from our Children's Chewable and increasing to 2 capsules per day at age 17.
Mayo Clinic recommends a daily prenatal vitamin for all women who have reached reproductive age because a baby's neural tube (which becomes the brain and spinal cord) develops in the first month of pregnancy - before most women even realize they are pregnant.
If you are pregnant or trying to conceive, it's best to take prenatal vitamins as soon as possible.
3. Why should I choose Raise Them Well Prenatal Vitamins over other prenatal supplements?
Raise Them Well Prenatal contains 4 key ingredients that we feel are necessary but are not found in 99.99% of other prenatal vitamins.
Methylfolate

 

- Folate is a B vitamin that helps prevent neural tube defects. The benefits of increasing folate during pregnancy were so significant that the U.S. government instituted a folic acid supplementation program in 1998.

Once ingested, folic acid must be converted into its active form - methylfolate - for the body to use it. Until recently, no one knew this might pose a problem for some people.

But new research has found that about 40% of the population cannot convert folic acid into methylfolate because of a mutation in the gene responsible for this conversion process.

While other prenatal vitamins contain folic acid - a synthetic form of folate, Raise Them Well prenatal vitamins are made with methylfolate - the most active, bio-available form of folate.


Vitamin B12

 

- For brain health, metabolism, and muscle growth. I recommend methylB12 or methylcobalamin. This (like methyfolate) is the active form found in nature and is the best to take during pregnancy.


Vitamin K2

 

- Our

 

prenatal vitamin

 

is the

 

only one

 

on the market with Vitamin K2, which helps our bodies build strong bones, promotes proper brain function, and prevents cardiovascular diseases. Most people are

 

deficient

 

in Vitamin K2, the other K vitamin.


Glutathione

 

- Our bodies naturally produce glutathione to help eliminate toxins. It's important during pregnancy because, like it or not, we cannot avoid all toxins completely.
4. When should prenatal vitamins be taken?
We recommend taking your vitamins at a consistent time, like your first meal of the day, so it's easy to remember to take them daily.
5. Who can take prenatal vitamins?
Women Who Are Pregnant / May become pregnant / Breastfeeding and Desire A Simple Vitamin: These ingredients are imperative for pregnant and nursing women and also incredibly important for all women.
Teenagers: Most teens need a broad spectrum of vitamins and minerals but probably don't need the extra strength doses found in most multivitamins. Generally, we recommend 1 capsule for ages 13 to 16 and 2 capsules for 17 and up. Pregnant teens should take 2 capsules.
Grandparents: As we age, most of us lose some of our ability to absorb vitamins and minerals, so supplementing with a high-quality multivitamin designed for maximum absorption is essential.
6. How can I be sure that Raise Them Well Prenatal Vitamins are made with the highest quality ingredients?
The Raise Them Well prenatal vitamins are produced in a facility that is CGMP and NSF certified. The vitamins are also certified by the Natural Products Association.
The Prenatal Vitamins undergo testing by an independent third party for over 100 different heavy metals and toxins to ensure that they meet or exceed the stringent Prop 65 requirements.
7. Why does the Raise Them Well Prenatal formula contain more folate than the FDA's recommended Daily Value (DV)?
Folate is incredibly important for pregnant women. The FDA's recommended values are the minimum that should be consumed each day. Research shows that an increased amount of folate is beneficial for baby and mom.
8. Why take prenatal vitamins post-partum or while breastfeeding?
Besides it being a great broad-spectrum multivitamin, nursing mothers have increased nutritional needs during lactation that our depleted food sources cannot meet.
 
Please see the Supplement Facts tab for a full listing of the Ingredients in this product. In summary, it contains: Vitamin A (as Beta Carotene), Vitamin C (as Ascorbic Acid) Vitamin D3 (as Cholecalciferol), Vitamin K2 (MK-7), Vitamin E (d-alpha tocopheryl succinate), Vitamin B1 (as Thiamin Mononitrate), Vitamin B2 (as Riboflavin), Vitamin B3 (as Niacinamde), Vitamin B6 (as Pyridoxine HCL), Folate L-5-Methylfolate, Vitamin B12 (as Methylcobalamin), Calcium (as Calcium Carbonate), Iron (as Ferrous Chelate), Zinc (as Zinc Chelate), Selenium (as Amino Acid Chelate), Copper (as Copper Gluconate), Magnesium (as Magnesium Oxide), Ginger root powder (Zingiber officinale), L - Glutathione.

Articles
Is the Raise Them Well Prenatal Vitamin only for pregnant and nursing women? What a great question! The answer is No! Our prenatal vitamin is fantastic for all women and teens, not just pregnant and nursing women for lots of reasons.  First, let's look at the subtle differences between a Prenatal Vitamin and a regular Multivitamin...
Deciding which vitamin or vitamins your child needs can be challenging.  What can be taken together? How old does my child need to be to take it?  How do I know which one to even pick?...
Prenatals, there doesn't seem to be much controversy over them. And in some sense, there shouldn't be. These vitamins serve a simple purpose, to help the developing child in a mother's womb grow in a healthy and controlled manner...

If you're pregnant, or have just had a baby and are breastfeeding, then you may be taking a prenatal vitamin. It's standard for OBs to tell moms to take a prenatal because the demands of growing a baby can exert tremendous pressure on the mother's nutritional needs...
Is the Raise Them Well Prenatal Vitamin only for pregnant and nursing women? What a great question! The answer is No! Our prenatal vitamin is fantastic for all women and teens, not just pregnant and nursing women for lots of reasons. First, let's look at the subtle differences between a Prenatal Vitamin and a regular Multivitamin...
As an Integrative Medicine physician, I find the new research about the  importance of proper nutrition from Day 1 for babies fascinating.  I'm not talking about Day 1 after birth, I'm talking about Day 1 at conception.  It is now becoming abundantly clear...
Supplement Facts
Other Ingredients: Vegetarian Capsule

SUGGESTED USE:
Take two (2) capsules daily or as recommended by a healthcare practitioner.
CAUTION: 
Women who are pregnant or lactating and anyone taking medications or other dietary suplements should consult a health care professional before using any nutritional product. If any adverse reaction occur, discontinue use and consult a health care professional.