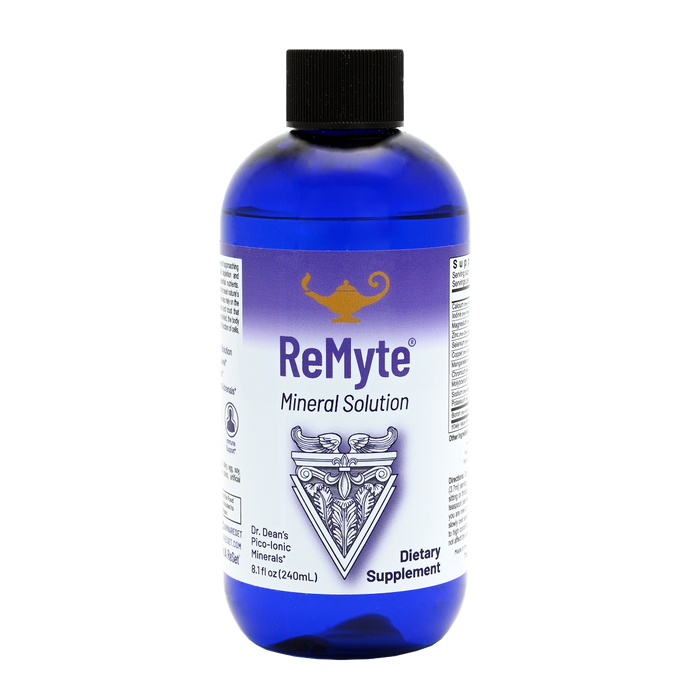 RNA Reset Pro ReMyte Mineral Solution - 8 fl oz.
Sale
Sale
Original price
$ 39.99
-
Original price
$ 39.99
ReMineralize Your Body
12 minerals for cellular function*
Powerful electrolyte formula

What Makes ReMyte® One of the Best Oral Electrolyte Solutions?
Using the same proprietary technology that created ReMag® Magnesium Solution, Dr. Carolyn Dean has formulated ReMyte®, one of the best oral electrolyte solutions available to consumers. But what is the purpose of an electrolyte solution?
Ultimately, it's a balanced mineral solution meaning that the minerals work to complement one another and maximize their performance. ReMyte® offers stabilized ions of twelve different minerals that are fully absorbed at the cellular level*. We add ReMyte® to our mineral family to help you support your health, vitality, and well-being.
Electrolyte Concentrate Rich In Minerals
Mineral electrolytes are ionic conductors of electrical current in the body*.  They are dissolved in body fluids and travel throughout the body ready to activate nerve cells and muscle cells for electrical and physical activity*.  Electrolytes also regulate, effect, and affect metabolism at every level of the body*.
ReMyte® is a Completement Formula® that supports electrolyte balance in your system.*
ReMyte® goes far beyond most electrolyte solutions by providing one dozen minerals in the unique stabilized picometer size that allows for complete absorption at the cellular level.*  Thus the potency of the minerals can be very low, eliminating any possibility of toxicity.  Yet, when fully absorbed at the cellular level, these minerals are highly effective.* 
The boron, copper, chromium, iodine, selenium, and zinc in ReMyte® all have very specific roles to play in blood health, blood vessel integrity, blood sugar balance, thyroid support, heart function, and immune system support.*
ReMyte® work synergistically with ReMag®, our Magnesium product.  ReMag® stabilizes lipid cell membranes allowing the ReMyte® mineral ions to fully and completely enter all cells.*  Within the cells Magnesium works together with all the ReMyte® minerals.*
Please see the Supplement Facts tab for a full listing of the Ingredients in this product. In summary, it contains: Calcium (from Calcium Chloride), lodine (from Potassium lodide), Magnesium (from Magnesium Chloride), Zinc (from Zinc Lactate), Selenium (from Sodium Selenite), Copper (from Copper Sulfate), Manganese (from Manganese Chloride), Chromium (from Chromic Chloride), Molybdenum (from Sodium Molybdate), Sodium (from Sodium Chloride), Potassium (from Potassium Chloride), Boron (from Boric Acid).
Supplement Facts
Adult Dose:
ReMyte® solution is a powerful mineral concentrate and should not be placed directly into your mouth.
Adults: Begin slowly taking 1/4 tsp daily and increasing by 1/4 tsp every 2 days. Build your dose to 3/4 tsp. daily in water or juice with food. To increase your dose beyond the label recommendation please consult with your health care provider.