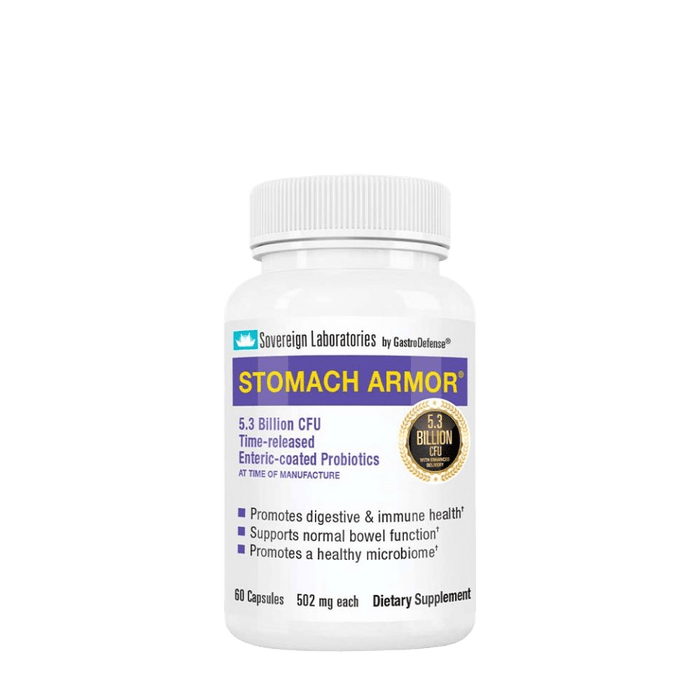 Sovereign Laboratories GastroDefense® STOMACH ARMOR® - 60 Capsules
Sale
Sale
Original price
$ 30.00
-
Original price
$ 30.00
Helps maintain cholesterol levels that are already within a normal range
Helps Maintain GI Health
Promotes Regularity
Time-released Probiotics
Helps maintain a healthy microbiome
Clinical studies show GastroDefense® Stomach Armor® is a superior formula for bowel and immune health. This proprietary formula of Colostrum-LD®, Zinc, Calcium Carbonate, Hidrox®, six probiotics and peppermint oil promotes the growth of beneficial gut bacteria. Additional benefits include: helps protect against occasional diarrhea and constipation; increased nutrient absorption; reduced bloating†
Disclaimer: sovereignlaboratories.com is an independent distributor for Sovereign Laboratories. The statements contained in this site have not been evaluated by the Food and Drug Administration (FDA). These products are not intended to diagnose, treat, cure or prevent any disease. The statements contained herein are for informational purposes only, and are not meant to replace the services or recommendations of a physician or qualified health care practitioner. Those with health problems, or who are pregnant or nursing, are specifically advised that they should consult their physician before taking these or any nutritional supplements.
Please see the Supplement Facts tab for a full listing of the Ingredients in this product. In summary, it contains: Proprietary Blend: (Colostrum-LD®, Zinc carnosine, Calcium, Hidrox®, Acidophilus, B. Lactis, L. Rhamnosus, LactoSpore®, B. Bifidum, B. Longum, Peppermint).
Supplement Facts
SUGGESTED USE: Take one capsule once a day or as directed by your healthcare professional.