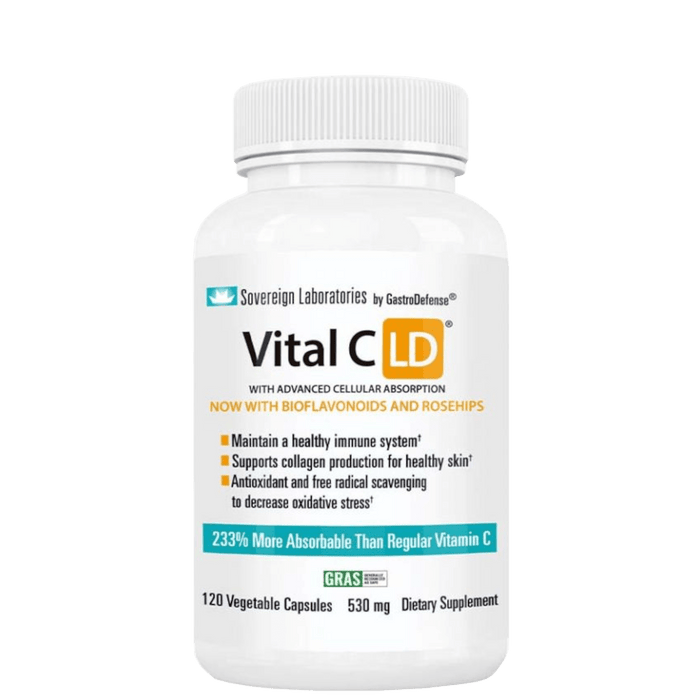 Sovereign Laboratories Vital C-LD™ 530 mg - 120 Capsules
Sale
Sale
Original price
$ 31.00
-
Original price
$ 31.00
New label, same great product...
A daily serving of 2 capsules (1040mg) is the equivalent to taking 15,600 mg of vitamin C without liposomal delivery.
VitaC-LD™ is a proprietary preparation of ascorbic acid with citrus bioflavonoids and lipid metabolites from natural vegetable sources (Liposomal Delivery).
Liposomal Delivery is important to the bioavailability of the Vitamin C, and increases it up to 1500% versus vitamin C without Liposomal Delivery. Liposomal delivery is essential for the vitamin C to travel intact through the stomach and into the intestines by which the specific lipid metabolites contained in VitaC-LD™ enhance its entry into the cells.
Vitamin C is the only vitamin that must be supplemented because it is not manufactured by the human body. When complimentary care physicians turned to intravenous vitamin C, it was the only viable treatment to achieve optimal results and maximal absorption of vitamin C. Now, VitaC-LD™ is the alternative to expensive and often inconvenient vitamin C infusions. Our delayed-release capsules allow these powerful antioxidants to reach the small intestines where they can be more readily absorbed into the bloodstream. An added benefit is that you won't experience stomach upset or pain associated with traditional vitamin C supplements and vitamin C-rich foods.
People typically take vitamin C supplements with food to reduce stomach acidity and stomach upset. The delayed- release capsule and liposomal delivery of VitaCLD ™ makes this unnecessary. In fact, VitaC-LD™ should NOT be taken with food. VitaC-LD™ is best taken with Colostrum-LD™.
GMO-free and allergen-free.
Certified Kosher and Halal.
Supported by comparative research studies in vitro and in humans.
The statements contained in this site have not been evaluated by the Food and Drug Administration (FDA). These products are not intended to diagnose, treat, cure or prevent any disease. The statements contained herein are for informational purposes only, and are not meant to replace the services or recommendations of a physician or qualified health care practitioner. Those with health problems, or who are pregnant or nursing, are specifically advised that they should consult their physician before taking these or any nutritional supplements.
Vitamin C is easily the most well-known supplemental vitamin on the planet. Clinicians have leaned on vitamin C for decades because of its well profound ability to enhance immune health.The reason vitamin C receives so much attention is because it's the only essential vitamin not manufactured by the body.Thus, it has to be supplemented with. By supplement I don't mean you must take a pill to get vitamin C...
Please see the Supplement Facts tab for a full listing of the Ingredients in this product. In summary, it contains: PureWay-C™ [proprietary formulation of ascorbic acid USP combined with lipid metabolites (fatty acids) from vegetable waxes, and bioflavonoids (from citrus bioflavonoid complex), Rosehip fruit extract.
Supplement Facts