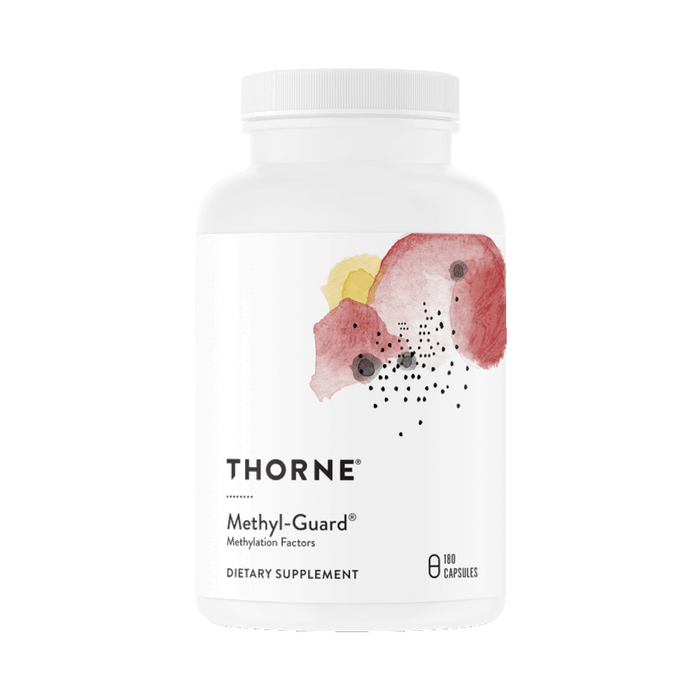 Thorne Methyl-Guard - 180 Caps
Sale
Sale
Original price
$ 52.00
-
Original price
$ 52.00
Supports methylation for healthy heart, blood vessels, brain, and bones*
Methyl-Guard contains betaine, 5-MTHF, methyl-B12, and P5P to support healthy methylation for cardiovascular, cognitive, and bone health.* Methylation helps maintain healthy homocysteine levels.*
The body's methylation process is key to maintaining a healthy level of homocysteine, as well as to multiple other biochemical processes involving neurotransmitters, detoxification, cardiovascular health, eye health, muscle health, bone health, and redox balance.* Maintaining a normal homocysteine level in the blood has joined having normal cholesterol and triglyceride levels as primary objectives for maintaining good cardiovascular health.* Because Methyl-Guard promotes healthy methylation, it helps maintain heart, blood vessel, cognitive, nerve, bone, and female reproductive health.* Methyl-Guard was the first nutritional supplement on the market to support homocysteine metabolism and healthy methylation using nutrients in their active, tissue-ready forms.*
Various conditions and stressors can have an adverse impact on the body's methylation cycle. For example, nutrient deficiencies and environmental and physical stressors can cause inefficient methylation. In addition, a common human genetic mutation that restricts the activity of a key enzyme in the body involved in methylation affects approximately 60 percent of U.S. adults.  This genetic anomaly poses a significant challenge to efficient methylation – and creates an important need for nutritional support to help rectify it.
Methylation – the addition of a methyl group (CH3 – one carbon attached to three hydrogens) to another molecule – is an essential and vital biochemical process in the body involved in multiple biochemical pathways involving neurotransmitters, detoxification, cardiovascular health, eye health, muscle health, bone health, and redox balance. A number of specific nutrients are necessary for the process of methylation to occur effectively.*
Effective methylation must occur to maintain a normal level of homocysteine.* A deficiency in the cofactors that metabolize homocysteine is commonly seen in the elderly, thus resulting in increased homocysteine levels in the aging population. An elevated homocysteine level associated with aging, as well as less than optimal levels of folic acid and vitamins B6 and B12, often result in the inefficient methylation of numerous substances, such as DNA and proteins, which in turn decreases the integrity of vascular structures and neurons.* Providing the nutritional cofactors for the efficient metabolism of homocysteine also provides support for a healthy brain.*
A number of biochemical imbalances that raise the level of homocysteine can be addressed by supplementing with appropriate nutrient cofactors. For example, folic acid (as L-5-methyltetrahydrofolate), vitamin B12 (as methylcobalamin), and betaine (trimethylglycine) help recycle homocysteine to the amino acid methionine, while the recycling of homocysteine into the beneficial amino acids cysteine and taurine is facilitated by pyridoxal 5'-phosphate (the active form of vitamin B6).* Studies have shown these nutrients help maintain a normal level of homocysteine in the blood.*
Because homocysteine levels can be higher in individuals in which the enzymatic reaction that converts folic acid to the active methyl donor L-5-methyltetrahydrofolate (5-MTHF) does not function properly, Methyl-Guard contains 400 mcg of active 5-MTHF per capsule.*
Please see the Supplement Facts tab for a full listing of the Ingredients in this product. In summary, it contains: Vitamin B6 (as Pyridoxal 5'-Phosphate), Folate (1.2 mg as L-5-Methyltetrahydrofolate from L-5-Methyltetrahydrofolic Acid, Glucosamine Salt), Vitamin B12 (as Methylcobalamin), Betaine Anhydrous (Trimethylglycine).
Supplement Facts

How To Use
Take 3 capsules two times daily or as recommended by your health professional.

ALLERGY WARNING
This product is contraindicated in an individual with a history of hypersensitivity to any of its ingredients.

PREGNANCY
If pregnant, consult your health professional before using this product.

INTERACTIONS
5-methyltetrahydrofolate (5-MTHF) supplementation is not recommended concurrent with methotrexate cancer therapy, as it can interfere with methotrexate's anti-neoplastic activity; however, this folate source has not been shown to interfere with the anti-inflammatory activity of methotrexate. An individual taking methotrexate for psoriasis or rheumatoid arthritis can safely take a supplement containing folate.