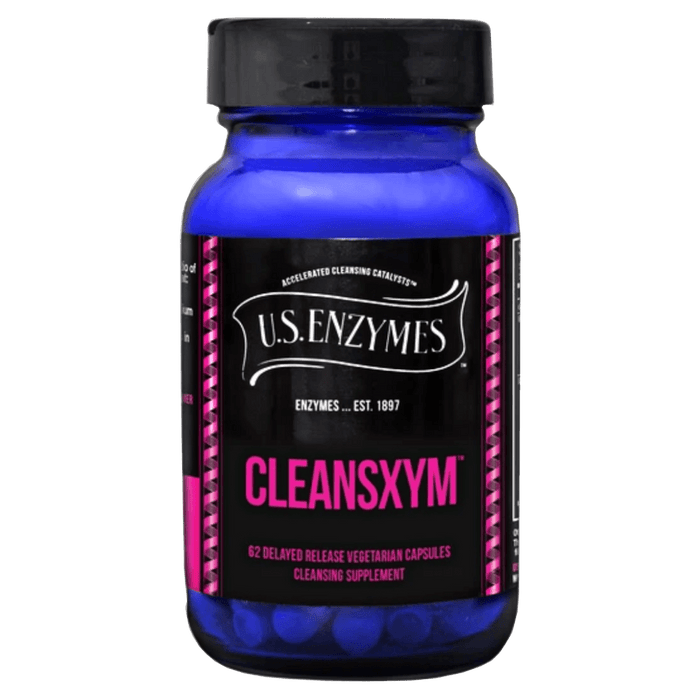 US Enzymes Cleansxym - 62 Vegetarian Capsules
Sale
Sale
Original price
$ 58.00
-
Original price
$ 58.00
CLEANSXYM™ is a proprietary blend of oxygenated magnesium in a base of protein/carbohydrate/fiber digesting enzymes designed to facilitate the cleansing and elimination process in the lower intestinal tract.*
Enzymes are the building blocks of life and nothing in our bodies (or life) functions without them. Enzyme reactions provide a steady power supply to keep all systems active, functioning and producing anti aging & anti-oxidant effects.* Co-Factors work with enzymes to produce more effective results.
Enzyme/Oxygen Cleansing therapy:
Supports healthy detoxification*
Promotes intestinal immune function and overall immune system health*
Supports the microbiome and a healthy intestinal flora balance*

Promotes whole body alkalinity




Please see the Supplement Facts tab for a full listing of the Ingredients in this product. In summary, it contains: Oxygenated Magnesium Oxides,  Enzyme Blend: (Beta Glucanase, Xylanase, Cellulase, Chitinase, Hemicellulase, Protease).



Supplement Facts
Suggested Use: To obtain the maximum results take one (1) capsule 2 times a day with meals and 8 ounces of water.