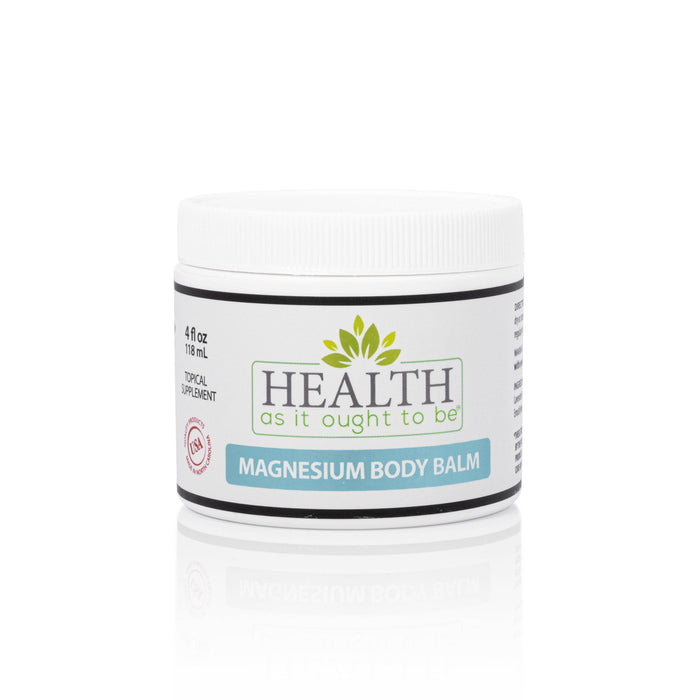 HAIOTB Magnesium Body Balm
Sale
Sale
Original price
$ 33.99
-
Original price
$ 33.99
Magnesium body calm made from all-natural ingredients, brought to you by Health As It Ought To Be.
The all natural ingredients in our Magnesium Body Balm have therapeutic effects on the body ranging from relief of arthritis pain to soothing dry, itchy skin. It contains authentic Dead Sea magnesium oil infused with Arnica, Aloe Vera, Jojoba & Coconut oil to soften & rejuvenate your body.*
Using our topical magnesium cream can provide relief to the following*:
Psoriasis

Eczema

Skin irritations

Skin allergies

Massages

Dermatitis

Acne
Sensitive skin and skin allergies can make for an uncomfortable lifestyle. Between the cracked skin and the rashes, relief is always sought after. There's no better way to achieve this relief than the topical magnesium cream by Health As It Ought To Be. Our body balm is made from all-natural ingredients that are gentle on your skin and it's conditions. Magnesium is one of the six micro-minerals that our body sees incredible benefits from, which is why we suggest applying our magnesium body balm on a routine basis. For skin that is cracked or sensitive, we suggest starting out with smaller proportions and working your way up to a routine application.
Amazon
Articles

One of the things that most people like to do when they're dealing with low, or mid grade pain is take some kind of pain pill. They believe (and often rightly so) that when your body metabolizes that pain pill, it'll send messages to your brain that the pain is no longer there...
It's not a stretch to say that our country has a problem on its hands when it comes to pain management. Millions of prescriptions are written every single month for drugs that have known histories of creating addiction and destroying lives...
Tylenol is definitely one of those pain medicines that we all know is bad for us… But sometimes you can't get away from it because of how well it works. The truth is that for many of us Tylenol really doesn't need to be the item that we turn to in order to knock out temporary pain (like muscle aches and headaches)...
We're sure you've noticed, but over the past few years there's been a huge national focus on mental health. It makes sense, the better off you are mentally, the better you'll be able to deal with the variables in life. Dr. Wiggy and the rest of the practitioners here aren't mental health experts...
When it comes to supplements, most people tend to think that the best way to get the benefits is by ingesting their supplements. In many cases, this is a great idea. Taking a supplement orally helps it to absorb through the intestines where it can be distributed throughout the entire body for great effect. But sometimes you don't want the supplement you're taking to diffuse through your entire body…
Ok, this isn't normal. Over the past 100 or so years something that's completely abnormal has taken place in America. And it's creating some disturbing effects in society. The issue is falling levels of magnesium circulating in our body. Dr. Wiggy has written about how falling magnesium levels are the result of food-based sources of magnesium changing in how much magnesium they deliver. 
I'm about to share some fascinating information that anyone who hates suffering through annoying body pain is really going to enjoy. To be Frank, I mean to be Wiggy, I wish I had known about this 20 years ago. What some of you may not know is 20 some years ago...
Label Information

Directions:
Apply to your skin as needed. Some mild irritation may occur on dry or cracked skin, this is normal and will pass after a few minutes. Apply on a regular basis to take care of dry skin.
Ingredients:
Dead Sea Magnesium Oil

Aloe Vera

Jojoba Oil

Coconut Oil

Beeswax

Lavender Essential Oil

Vegetable-based emulsifying wax

Citric acid

Arnica

Water
MADE IN THE USA
* This product is for topical use only. Do not ingest. It is not intended to diagnose, treat, cure or prevent disease.
**Mild irritation may happen for cracked or sensitive skin, this should pass quickly.