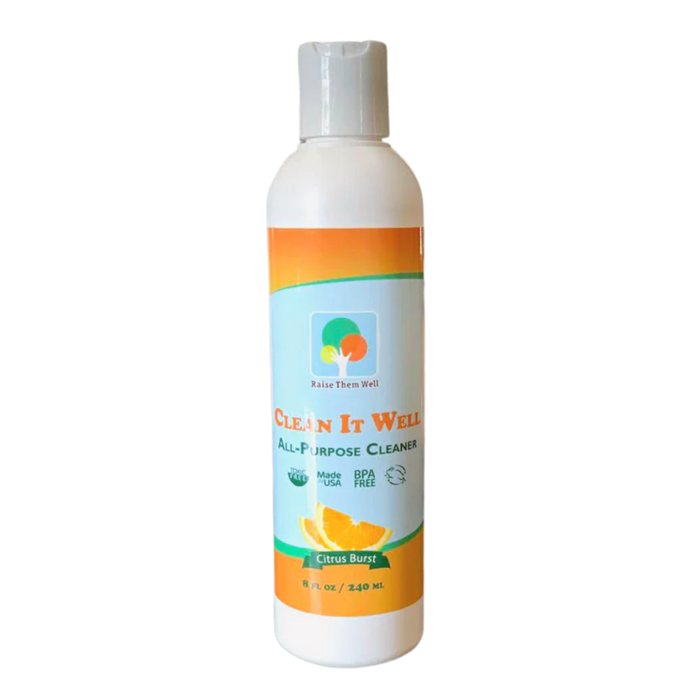 Raise Them Well Clean It Well - 8 oz.
Sale
Sale
Original price
$ 23.00
-
Original price
$ 23.00
CONVENIENT: 8 oz. bottle of liquid concentrate stores well, even in small spaces

ALL-PURPOSE: Use this stuff everywhere - kitchen, bathroom, kids' toys, stroller. It's perfect for hard surfaces plus carpets and laundry too!

TOXICFREE®: Made with only all-natural ingredients. Certified toxin free from the ToxicFree® Foundation.

SUPER CONCENTRATED: A little bit goes a long way. This bottle will last you forever....well, not quite forever :) It makes up to 32 16-oz bottles of household cleaner.  Thanks $.67 per bottle!!!

GREAT SCENT: You'll love the Citrus scent. You may even enjoy cleaning...okay maybe that's too far.
Raise Them Well's all-purpose cleaner - Clean It Well - is concentrated and effective for all your cleaning needs. It safely cleans and disinfects the surfaces in your home without the vinegar smell of other natural cleaners. Simply dilute in a 16-oz. spray bottle of water, spray on surfaces, and wipe away dirt, grime, and other everyday messes!
Made from Ecocert® and ToxicFree® ingredients that remove hard water, grease, and tough stains safely and effectively, you can feel good about using this product throughout your home.
Articles
One of the things about spending a bit extra for something that is natural, and/or healthy, is that you really want to get the most bang for your buck. Being healthy can seem a bit pricey, even though the potential benefits reduce how much you may spend on being sick...
There are a lot of things that you should never use. Never use water on a grease fire. Never use diesel in a gas engine. And never use conventional cleaning products if your goal is to improve your health. Why?...
Over the past 12 months, people have been using an inordinate amount of hand sanitizer in order to help prevent the spread of the coronavirus. And who can blame people from feeling like they can't live without it? The media has drilled it into our collective conscience, that coronavirus lives on every surface and can be passed on a whim, and so you need to be sure to vanquish germs ASAP...
Sometimes in life, a simple idea can set the world on fire. And in other cases, it can set a small pocket of the world on fire. Take for instance a product that Dr. Wiggy and his wife Emily produce called Clean It Well.  This little bottle of citrus-based cleaner was born out of the idea that in order to clean a home full of toddlers well, you don't need to saturate every nook and cranny with potentially hazardous chemicals...
The subject of toxins, toxic burden, detoxification, and cleansing are surprisingly controversial. On one side of the argument are people who argue that our bodies need help with detox because the number of toxins we expose ourselves to is staggeringly high and we don't have the capacity to eradicate the toxins. The other side of the aisle has people who say that our body's natural detoxification organs are more than able to help purge toxins from our body...
Have you ever strolled through the aisles at Target (or other favorite place to purchase cleaning products) trying to figure out which cleaning products to purchase that aren't full of disgusting chemicals, but also work? Ever purchased a "natural" cleaning solution for the price of designer shoes only to be left underwhelmed by it's smell or dissatisfied by its performance? Have you wanted to allow (force?) your young children to help you clean, but retreated in fear that they might ingest some of the cleaner or get it in their eyes? Are you tired of wearing gloves so that your... Read More
Change is hard.  It's so hard.  Adults have a hard enough time making changes for ourselves and when we add in the pushback from children who don't understand and don't want to and don't have the same intrinsic motivation it gets even harder.The result?  Overwhelm leads to paralysis.  We get so confused by conflicting information and feel the weight of so many obstacles on our shoulders and then we just don't do anything at all because it's too hard.  And it's true.  Doing it all is impossible. As busy parents I feel the only way to make changes in any... Read More
Almost daily researchers are discovering that many supposedly healthy habits may actually lead to subsequent health problems. For instance, years ago fat was demonized, and health authorities warned if you ate too much fat you'd develop heart disease. Now we know fat's not the main problem…  it's fat in the presence of a high-carb diet that leads to heart disease. And today I'm going to show you how one of the most popular health habits can actually harm...
Label Information
INGREDIENTS
Purified Water(Aqua), Sodium Lauroyl Methyl Isethionate, Cocarnidopropyl Hydroxysultaine**, Vegetable Glycerin**, Lactbacillus (and) Cocos Nucifera (coconut) Fruit Extract (Fungicide)**, Plant Extacts (and) Malic Acid (Vitamin E, Bio-flavonoids, Polyphenols, Natural Plant Sugars and Organic Acids derived), Citrus Burst (Fractionated Proprietary Oil Blend).
DIRECTIONS
Add a few drops to 16 oz of water for windows, mirrors, jewelrt, and shoes.
1 cap full plus 16 oz of water for counters, tile, floors, walls, woodwork, and refrigerators.
2 caps full plus 16 oz of water for bathrooms, stove tops, greasy surfaces, stainless steel, grimy loors, and outdoor furniture.
Can be used full strength sparinfly for stubborn grease stains and hard water stains.
Keep out of reach of children. Do no ingest.