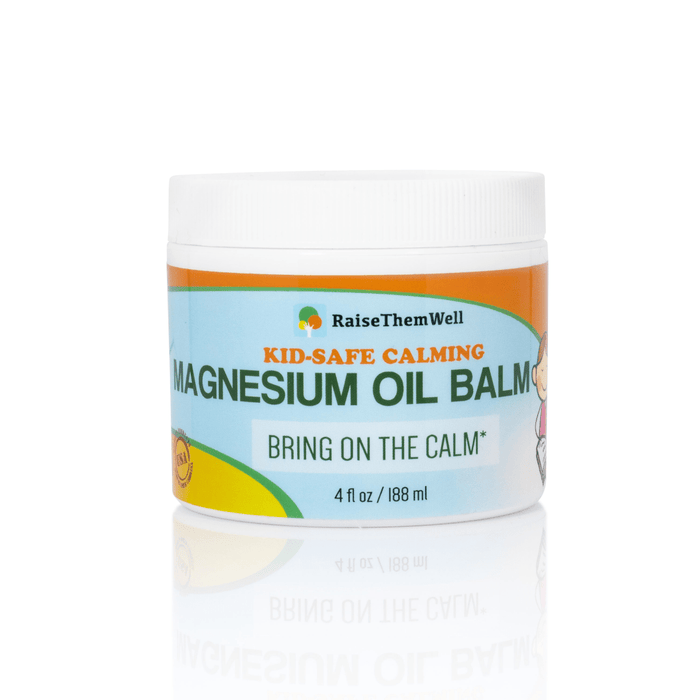 Raise Them Well Kid-Safe Calming Magnesium Oil Balm - 4 fl. oz.
Sale
Sale
Original price
$ 31.00
-
Original price
$ 31.00
Looking for a gentle, yet effective, magnesium oil that is uniquely formulated for kids? Then our magnesium balm is for you.The problem with regular magnesium oils is that they hurt kids sensitive skin. That is why we developed an extra-gentle balm to get rid of the burning and itching.
Contains only six ingredients: magnesium oil, aloe vera, jojoba oil, coconut oil, beeswax, and lavender essential oil.No synthetic chemicals like parabens, sulfates, and other hormone disruptors.
Magnesium oil is the necessary ingredient that helps calm kids down and get them to sleep* Our balm leaves the skin feeling soft and smooth without feeling greasy.
1. What type of magnesium is used in Magnesium Oil Balm?
Our Magnesium Oil Baby Belly Balm contains Magnesium Chloride, a highly absorbable form of magnesium that is effective for oral and topical use.
2. What time of day is best to apply Magnesium Oil Balm?
Baby Belly Balm should be applied twice daily to the belly and breasts for maximum effectiveness. We recommend using it in the morning after showering and at bedtime.
3. What should I do if diarrhea occurs?
Discontinue the use of Baby Belly Balm until diarrhea ceases. Decrease the amount applied for future uses.
4. Can I use Magnesium Oil Balm after its expiration date?
Potency may decrease over time, but it is safe to use after the expiration date.
5. Are there any interactions between Magnesium Oil Balm and prescription medications?
While we always recommend consulting your physician before use, there are no interactions that we are aware of.
6. Is it safe to use Magnesium Oil Balm while pregnant or nursing?
While we always recommend consulting your physician before use, magnesium is very safe and often used during pregnancy and nursing.
7. Should you refrigerate Magnesium Oil Balm after opening?
Refrigeration of our Magnesium Balm is not necessary.
Articles
In January and then in July our family grew from 2 to 4 little boys.  It's fun and wild!  To say that the energy multiplies is an understatement!  I feel like most nights kids are bouncing off the walls, wrestling, sword fighting, or shooting each other with Nerf guns just before bedtime...
Why in the world would loving parents give their kids a rub on magnesium oil? Turns out, it's because they see the benefit of how a topical magnesium helps their kids sleep well, experience less pain as they grow, and simply feel better daily...
It feels like we've written about this a time or 2 before, and in fact, we have… But if you're a parent or grandparent then you know the frustration that can come with dealing with children who can't regulate their mood...
Growing children are in desperate need of all kinds of nutrients. And unfortunately, here in the states and many other Western countries, they simply don't get enough of many of the minerals that are essential for good health. Chief among those minerals they need for healthy development is magnesium...
We're on a mission here at Health As it Ought To Be. To make your life better using all-natural products that are safe as well as scientifically  supported to help you feel better. One of the best ways we know how to do that is through helping parents deal with their kids in a healthier and more respectful way...
Kids are awesome. Their carefree attitudes about life, and insatiable curiosity about anything and everything make them an absolute joy to be around. That being said… There are times when it is anything but an absolute joy to be around children...
If you're a parent or grandparent, then you know what it's like to jokingly wish you could give your hyper child some benadryl to take their energy levels down a notch. Childrens' exuberance is certainly a gift, but it can be draining too. 
If you're at all into natural treatments then you undoubtedly have heard about Magnesium.  It has been discussed numerous times on shows like Dr. Oz and is pushed big time by natural health doctors...
I have been asked this questions numerous times from people when they are considering using Magnesium for their kids.  I think that it is because it is not recommended nearly as often as pharmaceutical medications by doctors...
One of the most common requests that we have received from our customers since releasing our best-selling Roll-On Kids Magnesium Oil is for a milder version that can be used on younger children...
 Are you wondering- Which magnesium products are best for your family? We often get questions asking about recommendations for children of various ages with different challenges...
I've mentioned before about the lack of regulation and standards in the personal care products industry, but I think it's really important to keep talking about it.  Unfortunately, too many families trust products...
Label Information
INGREDIENTS:
Magnesium Oil, Aloe Vera, Jojoba Oil, Coconut Oil, Beeswax, Lavander Essential Oil, Vegetable-based Emulsifying Wax, Citric Acid, Arnica, Water
DIRECTIONS:
Apply to soles of feet or between shoulder blades for overall calming and relaxation. Apply to skin where there are muscle aches or joint pains. Apply regularly for best results.
WARNING:
For topical use only. Do not ingest. Avoid direct contact with eyes and other sensitive areas. Recommended for kids 2 and up.