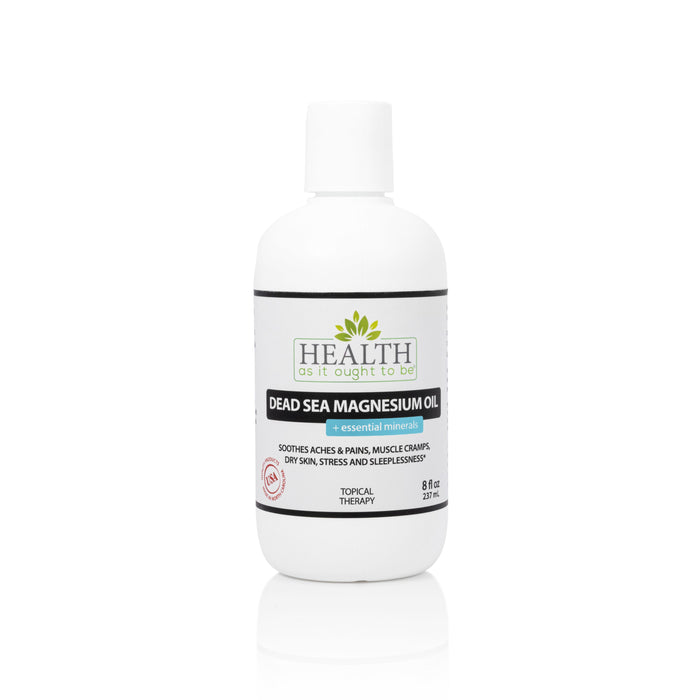 HAIOTB Dead Sea Magnesium Oil + essential minerals - 8 oz. Vegan, Topical
Sale
Sale
Original price
$ 33.99
-
Original price
$ 33.99
All-natural magnesium chloride oil with essential minerals, brought to you by Health As It Ought To Be
Dead Sea Magnesium Oil is Ultra-Pure and highly concentrated. It contains magnesium chloride plus essential minerals that are vital to your body's cellular and enzymatic processes. Using dead sea magnesium oil could provide relief from the following*:
Soothes Aches & Pains

Muscle Cramps

Dry Skin

Stress

Helps with Sleeplessness
Magnesium is one of the six micro-minerals that our body needs to be healthy. Magnesium oil provides the nourishing additives that can help improve sleep, lower stress, and soothe your aches and pains. The dead sea magnesium oil by Health As It Ought To Be is made from a mixture of pure magnesium chloride, essential nutrients and water. By applying this product directly to your skin, you could notice relief in a variety of areas. The formula that we've created is one that is vital to your body's cellular and enzymatic processes. Provide your body with the care that it deserves with the help of our magnesium oil.
Amazon
Articles

Ever have a bunch of pain throughout your body and discover that it affects the rest of your day pretty negatively? This is bound to happen when your muscles are sore. All that pain radiates throughout your body and can cause you to be in a bad mood...
We're big proponents of getting ample amounts of magnesium into your body. As people who stand by the value of healing, naturally, we're convinced getting enough magnesium into your diet is incredibly important. However, not everyone who needs magnesium needs to get it through their diet...
Magnesium oil is one of the numerous supplements we at Health As It Ought To Be recommend. Magnesium can be found in dairy products, vegetables, fruits, nuts, and grains and is present in every organ in the human body. You may think that you're getting enough if that's the case. However, magnesium is much better when absorbed through the skin.
Many of you might know that if your blood sugar isn't under control, it can create some pretty serious health concerns for you down the road. So how can you improve blood sugar? Simply by becoming more sensitive to insulin. In my opinion, improving blood sugar by becoming more insulin sensitive is one of the best steps you can take towards controlling your health.  
Label Information 

Directions:
Apply liberally to the skin anywhere benefits are desired. For best results, use the magnesium oil daily. You may notice some mild irritation if your skin is dry or cracked, but it should pass quickly. Rub the oil in thoroughly, and then wipe away residue once it's dried.
Caution: For topical use only, do not ingest. Avoid direct contact with eyes and other sensitive areas. Keep out of reach of children. 
Ingredients:
Authentic Dead Sea Magnesium Chloride

Trace Minerals

3,162 mg of elemental Magnesium Chloride per ounce
Alcohol-free, aluminum-free, fragrance-free, paraben-free
All-Natural, Vegan Friendly & Cruelty-Free
Store in a cool, dry place.
MADE IN THE USA
*  This product contains no alcohol, aluminum, artificial fragrances or preservatives
** This product is not intended to diagnose, treat, cure or prevent disease. Do not ingest. The statements have not been evaluated by the Food and Drug Administration. This product is not intended to diagnose, treat, cure or prevent any disease.