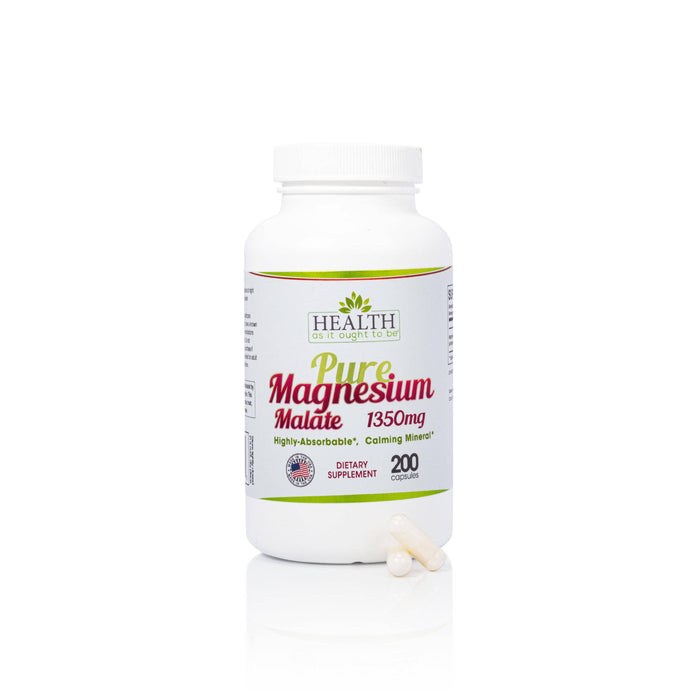 HAIOTB Pure Magnesium Malate 1350 mg - 200 Capsules
Sale
Sale
Original price
$ 33.99
-
Original price
$ 33.99
Magnesium is one of the most important minerals for true health. Part of the reason this is true is because it's used in over 300 different processes.
Highly absorbable, calming mineral. Boosts energy production. 
Magnesium malate is chelated. Chelation is the bonding of metal ions (magnesium) with other compounds. In this case, the malate that bonded to the magnesium is a derivative of malic acid - a natural fruit acid which plays a role in activating and making ATP (the energy units which power your cells). 
This combination helps give your body clean cellular energy that aids in the completion of many other bodily functions, including:
Maintaining normal muscle and nerve function
Keeping heart rhythm steady
Supporting a healthy immune system
Keeping bones strong
Regulating blood sugar levels
Promoting normal blood pressure
Supporting energy metabolism and protein synthesis
Once malic acid enters into muscle tissue, it will help to alleviate local pain.

Please see the Supplement Facts tab for a full listing of the Ingredients in this product. In summary, it contains: Magnesium (as Magnesium Malate).


Amazon 
Articles

Magnesium is one of our favorite nutrients to talk about because of how good it is for you. That, and so many people don't get enough of it in their bodies! Most people are aware that magnesium offers some kind of benefit to them, but they're not really sure what...
We are all about relaxation here at Health As It Ought To Be. Stress, though needed to develop healthily, can actually be pretty detrimental to our health too. Which is why you want to do what you can to promote relaxation...
Magnesium, oh how many times I've written about it and extolled its benefits. I've written about it a lot, almost too many times (but that's impossible). Yes, I love magnesium and I hope you do too...
We were talking about something recently regarding magnesium. See, we've emailed you a number of times about magnesium malate, for obvious reasons. But we've never talked about one of the most obvious things about magnesium malate - and that's how magnesium malate is made…
Did you know that we've sold out of our Magnesium Malate several times in the past? Yeah, we've done that more times than we can count. Ok, that's not true, we can count how many times… and we'd say it's too many, but the truth is y'all just like it so much that we can barely keep up with the demand...
Anxiety is likely at an all time high as people seek to thrive amidst one of most difficult years in recent memory. I know that tons of the people coming into our office are struggling with anxiety.  Many of them have never dealt with anxiety before, but these current circumstances have made it so they're temporarily afflicted by this mental hardship...
If you've been paying attention to the news over the past few years you know the country is gripped by an opioid epidemic. There are millions of people in America who are hooked on painkillers because they've been given a prescription that gets them addicted...
As you know, everything's getting canceled right now. 4th of July fireworks? Canceled. The Olympics? Canceled. The school year? Canceled. It's a crazy time to be alive, but one thing that will not be canceled is our commitment to helping to keep you well. Read on if you want to see how you can benefit from Magnesium Malate and why it's preferred over many of the other varieties of magnesium you could take...
One of the minerals that 4 in 5 Americans don't have enough of is also one of the most critical for human health.That mineral so many people are deficient in is magnesium.Dr. Wiggy's written more articles on magnesium than he has any other mineral and the reason the physicians at Robinhood Integrative health focus on magnesium levels is because of how important it is for functions inside the body.
Magnesium is one of the top things I write about. Why? Because it's essential… because it's used in 300 different enzymatic processes throughout the body, and because most people (80% of Americans) simply don't get enough of it in their diet. The deficiency isn't necessarily anyone's fault. Depleted food nutrient content is one of the top reasons for this problem. It used to be the case the food we ate had high-levels of magnesium...
If you go onto our homepage you're going to see we've got a ton of different kinds of magnesium online. The reason for this is simple. Magnesium is one of the most important minerals you can have for full and vibrant...
If you're getting 7-9 hours not only are you doing yourself a lot of favors healthwise… You're also putting yourself on a path to better or worse blood sugar. Mainly depending on what you do right before you go to sleep. Obviously, if you're reading this, you want improved blood sugar. So that's why I'm going to offer up some helpful tips that'll improve your blood sugar so when you wake up, you're starting the day off with the best blood sugar possible...
Supplement Facts


OTHER INGREDIENTS: Cellulose, Vegetable Stearate 

HYPOALLERGENIC: Does not contain Soy, Wheat, Gluten, Milk, Corn, Shellfish or Tree Nuts
Suggested Use: Take three (3) capsules at night or as directed by your healthcare practitioner.
Caution: Please consult with your healthcare provider if you are pregnant/nursing have a known medical condition, or are taking any medications before taking this dietary supplement. Do not exceed recommended dose. Do not purchase if outer seal is broken or damaged. Intended for adult use only.
FAQ: The 1350 mg on the front of the bottle is for Magnesium Malate. Magnesium Malate is a type of easily absorbed magnesium that is made by combining elemental magnesium with malic acid. Malic acid is known to be integrally involved in your body's Krebs Cycle, which is where much of your cellular energy is generated. This type of compound allows more magnesium to be absorbed before side effects like diarrhea occur. The 202.5 mg per serving on the Supplement Facts labeling is the amount of pure elemental Magnesium (without the malic acid). 
KEEP OUT OF REACH OF CHILDREN.
Store tightly closed in a cool, dry place.
MADE IN THE USA
*These statements have not been evaluated by the Food and Drug Administration. This product is not intended to diagnose, treat, cure or prevent disease. 
Do not ingest freshness packet.