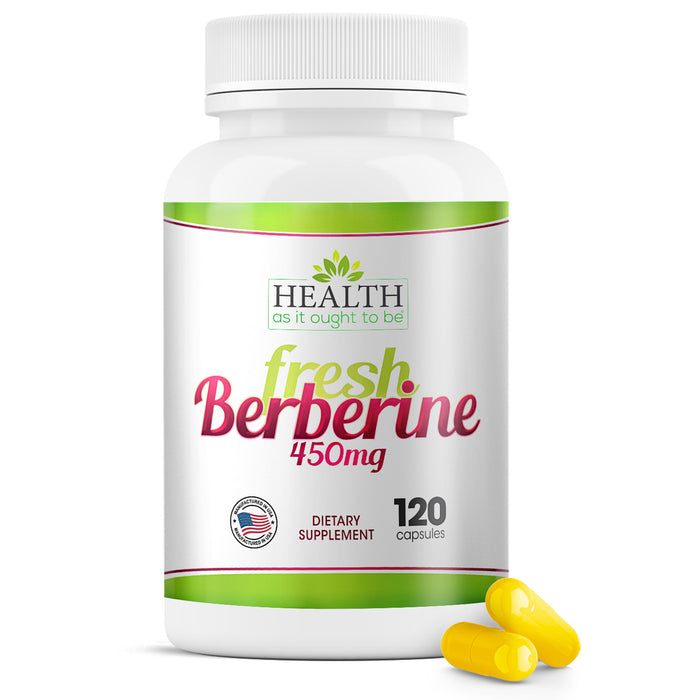 HAIOTB Berberine 450 mg - 120 Capsules
Sold out
Original price
$ 48.00
-
Original price
$ 48.00
Supports healthy blood sugar and cholesterol levels. 
Studies revealed Berberine did something to your body's cells that doctors never thought possible. In some cases, it outperformed the mainstream options by 50-200 times! Researchers noticed Berberine kick-started cellular processes that could help melt fat away from the body… while also helping transport blood sugar into your cells (where it belongs) with much greater efficiency.
Other studies revealed Berberine contains one of nature's most powerful antioxidants.  A little bit of this included in your diet could also help balance inflammation, strengthen the brain, soothe aching joints, and so much more. But what impressed me most about Berberine was how it helped improve people's blood sugar levels.
But how could I prove all this? Well, the good news is I didn't have to… it had already been done for me. 2,800 studies connected to Berberine confirm it has healing power.  Fact is, Berberine is one of the most well-studied natural supplements in the world. 
Freshness Matters

Made in Small Batches

Physician Recommended

When It Comes to Berberine The Most Important Factor Is Freshness.

 

Unfortunately, most companies do not worry about this and produce thousands of bottles at a time to save money. So you may be using a product that has been sitting on the shelf for nearly two years. You may be able to find a cheaper product but not one that is nearly as fresh and, therefore, not as effective.

We Make Our Berberine in Small Batches, Sometimes Only 100 Bottles at a Time.

 

By doing this we are able to use only two ingredients Berberine and Rice Flour. Most other supplement companies fill up the capsule with preservative to make it last longer.

Dr. Wiggy Saunders of Robinhood Integrative Health formulated this product for his patients. He couldn't find a product that met his strict quality standards and was fresh enough to impact blood sugar and cholesterol levels. He is also uniquely positioned to monitor his patients bloodwork and make sure it does what he needs it to do.
*Survey Results (Natural Treatments for Blood Sugar and Cholesterol - January 2020): 9 out of 9 Integrative Medicine Physicians and Nurse Practitioners recommend this product for their patients to help control their blood sugar and cholesterol.
*Disclaimer: Please check with your healthcare provider before starting any new supplements.
Please see the Supplement Facts tab for a full listing of the Ingredients in this product. In summary, it contains: Berberine HCI (Barberry Root Extract - Berberis aristata)
 Amazon
Articles



Do a search for berberine on our website and you'll quickly realize it's one of the topics we cover frequently. Why? It has everything to do with how long people have used berberine… how many times people have studied it… how many people have great experiences with it… and of course, the obvious health benefits...
As anyone who's been listening to Dr. Wiggy may remember, he believes many of our health woes could be undone if we battled blood sugar issues. His preferred method is a dietary angle, along with exercise...
You've probably noticed a theme here this past year. We offer sales on our products on Monday and Thursday. We have dozens of products so we can't reasonably promote them all the time. We move through them in cycles...
Berberine is one of Dr. Wiggy's favorite supplements in the whole world. That's a pretty significant thing to say, right? Well, when something works as well as berberine does for a ton of crucial health issues you start to see why board-certified doctors like Dr. Wiggy as well as Dr. Lantelme tell their patients as well as their family and friends to make berberine part of their life.
Every year people start to prepare for getting sick during flu season by stocking up on all kinds of the traditional treatment options. They take Vitamin C… They get the echinacea out. And some people stock up on Theraflu, Vicks, Alka-Seltzer and more...
Dr. Wiggy is known for his reliance on all-natural treatments for a variety of issues. Because that's true, people come from all across the South to see him.  Especially when it comes to thyroid health and improving blood sugar. So if Dr. Wiggy is all about "natural treatments" then why does he recommend a chemical every day?
Berberine is one of the top-selling supplements that Health As It Ought To Be offers to patients. The reason it sells so well is obvious to myself and nearly every patient who's tried it. Berberine helps keep blood sugar levels within the healthy range better than almost anything on the planet, and certainly better than most other supplement or conventional method. 
Can I tell you something you might not have known? When Health As It Ought To Be was founded, it was because my partner in the practice had been forced out of his position as a lead physician at a different...
Many of you might know that if your blood sugar isn't under control, it can create some pretty serious health concerns for you down the road.   So how can you improve blood sugar?    Simply by becoming more sensitive to...
 If you're staying current with health news you probably know sugar is public enemy #1 to total health. Sugar's been said to be as addictive as cocaine... And as dangerous as a loaded shotgun pointed at your face... While some of this may be hyperbole (the part about the shotgun is) there's no escaping the fact sugar can be extremely harmful to your health.
Supplement Facts
HYPOALLERGENIC: Does not contain Soy, Wheat, Gluten, Milk, Corn, Shellfish, Sesame or Tree Nuts
Suggested Use: Take one (1) capsule twice daily or as recommended by your healthcare practitioner.
Caution: Please consult with your healthcare provider if you are pregnant/nursing have a known medical condition, or are taking any medications before taking this dietary supplement. Do not purchase if outer seal is broken or damaged. Intended for adult use only.
KEEP OUT OF REACH OF CHILDREN.
Store tightly closed in a cool, dry place.
MADE IN THE USA
*These statements have not been evaluated by the Food and Drug Administration. This product is not intended to diagnose, treat, cure or prevent disease. 
Do not ingest freshness packet.